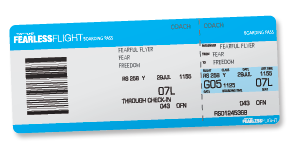 We will be announcing our brand new, Cleared For Takeoff Online Course shortly.
Sign up to receive updates on the upcoming online fear of flying course. You'll be the first to hear about the next class registration!
In the meantime, I'd like to recommend to you the FEARLESSFLIGHT™ Kit – Make sure to read the testimonials on the page. Quite frankly, this kit has helped thousands of fearless flyers like you to change their minds about flying!

Book Your FREE Phone Consultation NOW!