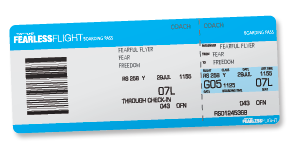 We will be announcing a fear of flying course, FEARLESSFLIGHT NOW, shortly.
Sign up to receive updates on the upcoming online fear of flying course. You'll be the first to hear about the next class registration!
In the meantime, I'd like to send you the FEARLESSFLIGHT™ GUIDE – Know the Sights, Sounds, and Sensations" for a Fearless Flight.
In this guide I walk you through a typical flight and explain what happens once the doors close and we're ready for takeoff. Some common noises onboard atually become triggers for panic attacks and anxiety, so learning what they are is the first step to controlling your thoughts.
Get the Sights, Sounds, and Sensations Guide