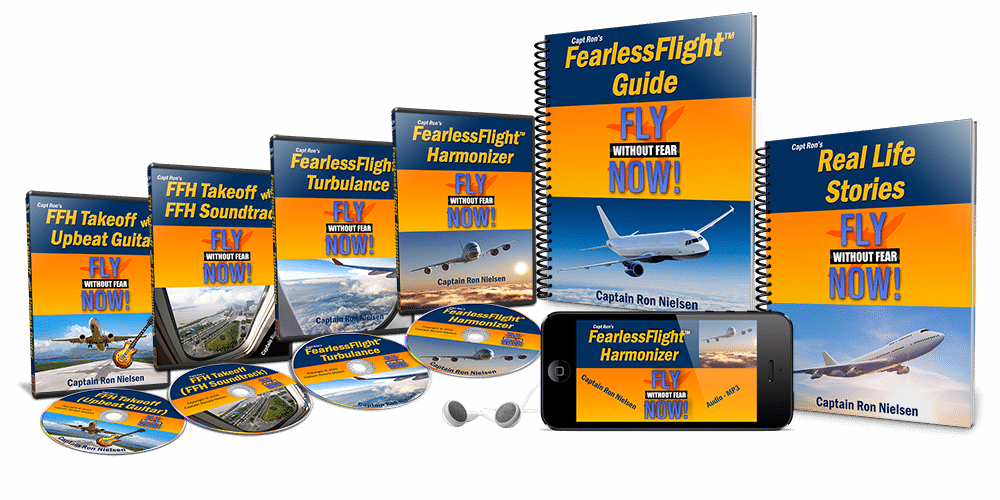 If you're tired of all that you've missed because of your fear of flying, then help is immediately available. The FearlessFlight Kit, the amazing audio product that has helped so many fearful flyers fly free of their fear, has been redesigned and is now available for instant download!
"I just wanted to thank you for your excellent products. After being a frequent business traveler in my 20′s, I developed a fear of flying after my children were born. I have only gone on about 5 flights in the last 10 years and they have all been white-knuckle experiences for me with lots of pre-flight anxiety.

For my husband's 40th birthday, he wanted to take the family back to St. John where his family would vacation every year. I booked the trip and hoped for the best.  About 5 days prior to flying I found your website through a link on USAir website. I ordered the video version of your class thinking that I had nothing to lose. It was so helpful to hear about the mechanics of the plane, what actually happens during take-off and landing, how turbulence affects a plane and how pilots are trained immediately, I started to feel less anxious about our trip.

Since I was still a bit nervous and I had read the testimonials about the FearlessFlight Kit I reluctantly ordered it. I am so glad I did. We had periods of turbulence on both the trip out and back and each time I put on the FearlessFlight Kit and it really helped me to relax. I even enjoyed parts of the flight which is nothing short of amazing. And as a bonus, my husband is thrilled with the progress that I've made."

Thanks again!

Heidi W. March 2011
"I've been listening to the Kit for a week now….It is the most educational, relaxing, encouraging information….I AM READY TO GET ON THE PLANE AND LET GO AND ENJOY THE FLIGHT…"

Dolores, April 2014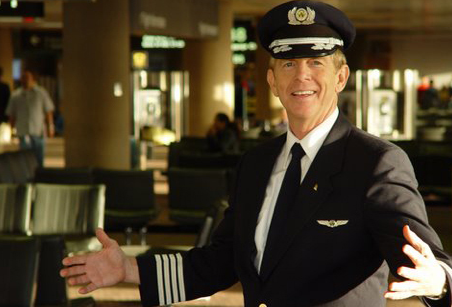 I'm Capt. Ron Nielsen and I'm happy to offer you my personal guarantee that the FearlessFlight Kit will make you a better flyer. If for some reason, this remarkable downloadable product doesn't work for you, you'll get a full refund on your credit card if you ask. If you love the FearlessFlight Kit and the freedom to fly that it brings you, I'm happy. But if it doesn't, then I'm happy to give back your money within 30 days of your purchase.
For $197, you'll receive instant access to the digital downloadable files in the FearlessFlight Kit. You are just MINUTES away from listening to the magical power of this product. The FearlessFlight Kit includes:

FearlessFlight Harmonizer Audio Version – the original audio program that has helped thousands of fearful flyers break the grip that fear and anxiety has had on them.
FearlessFlight Guide – a pdf e-book that explains the many unfamiliar sights, sounds, and sensation that trigger fear and anxiety in fearful flyers.
Real Life Stories of Fearful Flyers – a pdf e-book containing stories from formerly fearful flyers who have overcome their fear. It includes an autobiographical story of Capt Ron and his experiences with fear and flying.
FearlessFlight Harmonizer Video Version – same great audio program but with video and captioning to engage even more of your senses.
FearlessFlight Takeoff Video with FearlessFlight Harmonizer soundtrack – real takeoff as viewed from the cabin with the original FFH soundtrack and captioning describing the takeoff and onscreen guidance to pace your breathing.
FearlessFlight Takeoff Video with upbeat music soundtrack – same video as the previous takeoff video but with an up tempo soundtrack to induce a slight bit of anxiety to help you learn how to manage your anxiety under controlled circumstances.
Turbulence Video – a video that describes the nature and causes of turbulence to better understand the phenomena that triggers so many fearful flyers.
"I listened to the FearlessFlight Kit over and over and felt great!! My husband was so impressed at how well I did! He said that by far, this has been the best I have ever done! Turbulence did NOT (and it always does) bother me at all!"

-Leila P.
GET ALL 7 COMPONENTS INCLUDED IN THE FEARLESSFLIGHT KIT:
The FearlessFlight Kit will be your ticket to a whole new way of flying!
Click "Order Now" below to gain access to the digital FearlessFlight Kit files NOW!